Calendula! Power in the Flower
Did you know that beyond the beauty of the Calendula flower, it is packed full of antioxidants, can heal wounds and may be able to combat certain cancer cells? Calendula can improve skin health and has antifungal properties. There is no better time than now to add this wonderful flower to your skincare arsenal. It is one of the many powerful ingredients in Noble Spa.
Calendula is available in many forms. It is super easy to plant and will bring you beauty to your garden and so much more. 40 Knots grows this beautiful flower using biodynamic methods, then dehydrates at the winery, and uses in VinoSpa products. You can also enjoy these beautiful flowers in your creations in the kitchen. You can add them to your salads, salsas, scrambled eggs, etc. I have frozen them in my ice-cube trays and added them to a creative cocktail or summer lemonade. Embrace this flower and enjoy it in its entirety.
Calendula oil is also available commercially. This natural oil is extracted from these flowers. Impressive words used to describe it are antifungal, anti-inflammatory, and antibacterial. It is helpful in soothing eczema, and back years ago was often used to treat diaper rash.
In skincare, Calendula is nourishing and will help to plump the surface of the skin, making it supple almost instantly. Because of the flavonoids found in Calendula it will brighten the skin and aid in fading age spots. Studies have shown that it can also increase collagen production. The best way to get the maximum results, is through a Noble Spa soak in the tub or a Noble Spa steam facial.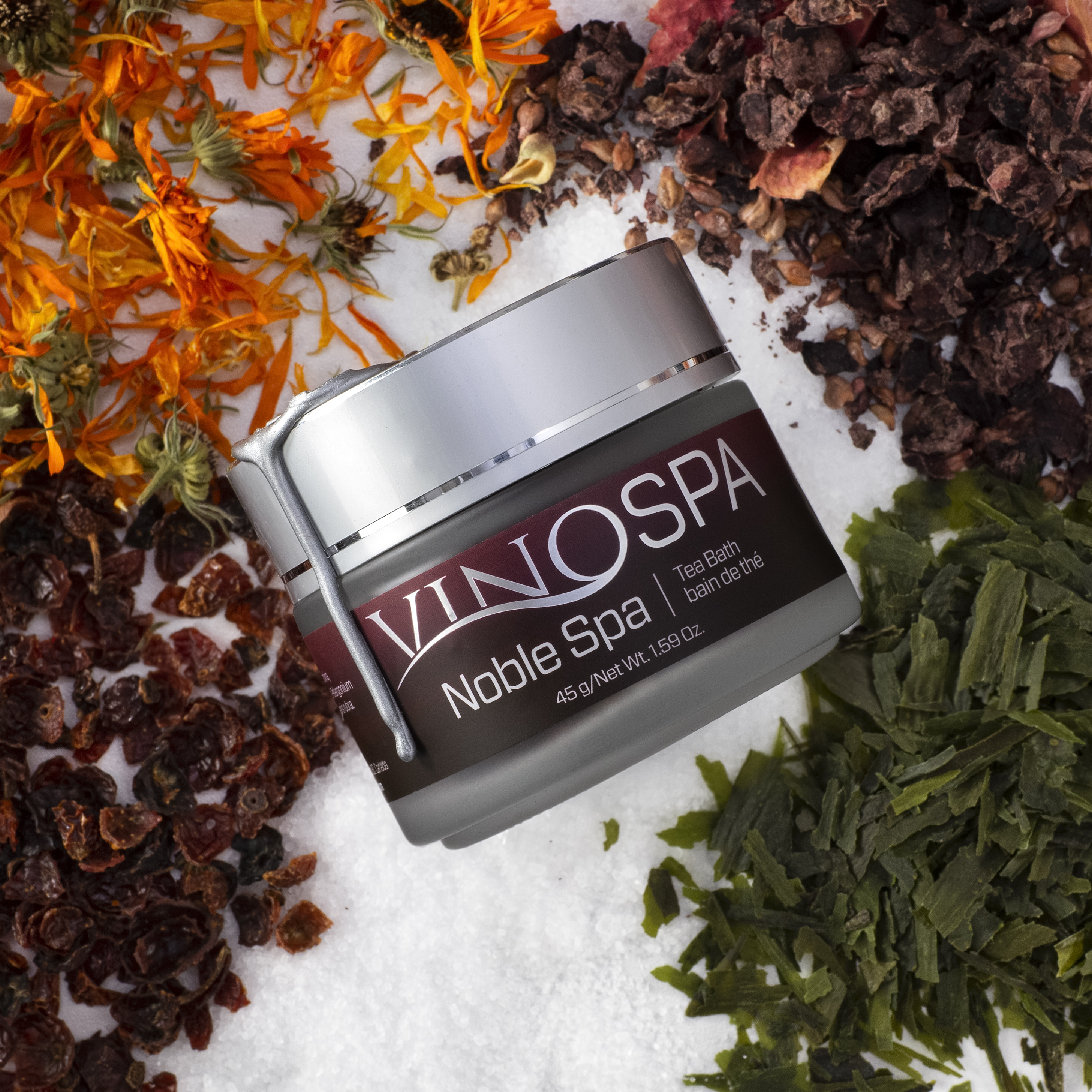 Looking to nature is showing us the beauty in the flower and the health it brings to us both emotionally by its pleasing view, and its healing qualities within the flower. VinoSpa grows Calendula using biodynamic methods and dehydrates the flowers onsite.
As we explore self-care and find ways to fill our life with joy it makes me certain I will be filling my back yard with many of these beautiful flowers.