Fall is upon us and while I am buying some new sweaters, boots and scarfs, don't forget your skin!
Leaves change colour! Pumpkin lattes and cozy fires at night. Fall is upon us and our skin is often forgotten in the shuffle. There is a drop in humidity which contributes to drier skin. The skin ends up drier and itchy and needs help.If left on its own it can become super sensitive and crack.
Just as we invest in some new scarfs, sweaters and boots, we should also invest in some good skin care. Now is the time to use a rich product that will help hydrate as well as exfoliate.
Fall is the perfect time to analyze your daily skin care routine and add to your collection. Cold air battles with our skin causing dryness and flaking. Find a good product that is not harsh as your skin goes through a sensitive stage during the transition from summer to fall.
You need to cleanse your skin without stripping it of the natural oils while providing good hydration.
Masking the skin is so important now with the changing weather and it helps to exfoliate and prepare for better absorption of moisturizer.Now is the time to remember hands and hair as they also lose moisture and become dry and dull.
This is the time to add an extra application of moisturizer to all of your skin. If you generally do one moisturizer in the morning add one at night as well. Your skin will drink in the nutrients and reward you with a healthy glow.
Exfoliation becomes your skins best friend and depending on your skin type, once a week or a couple times, watch the skin to see how it feels after each one and either up your routine or take it back if notice any sensitivity.
Now is the time to up your game with a good Scrub.After a soothing soak, we recommend our amazing Noble Spa, enjoy the time spent massaging the scrub all over and leave on for a few minutes while it works its magic.Follow up with a good Butter and before long your skin will thank you with a soft and supple feel. Remember head to toe, the hair is also dealing with the fall dryness as well and extra hair masques are wonderful during this time of year. Apply rich moisturizer to the feet and pop on a cozy pair of cotton socks while you enjoy that evening fire and a hot chocolate or lovely cup of tea. Pull out your favorite author and enjoy a good read while you moisturize.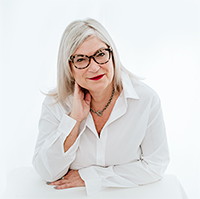 Gayle Miller
I have always wanted to write. I am honored to be invited to write for 40Knots.
I hope to entice you into following me on my passions and adventures.