What is Resveratrol in Skincare?
People are always asking us the question, What is Resveratrol? Simply put, Resveratrol is a naturally occurring antioxidant found in red wine, red grape skins, purple grape juice, mulberries, and in smaller amounts in peanuts. It may also be found in your vitamin aisle and comes in a powder, pill, or liquid form. Most skincare that promotes having resveratrol in their skincare are using Pichia/Resveratrol Ferment Extract. This extract is made in lab by using the Pichia yeast as the base product and methanol gas create the extract.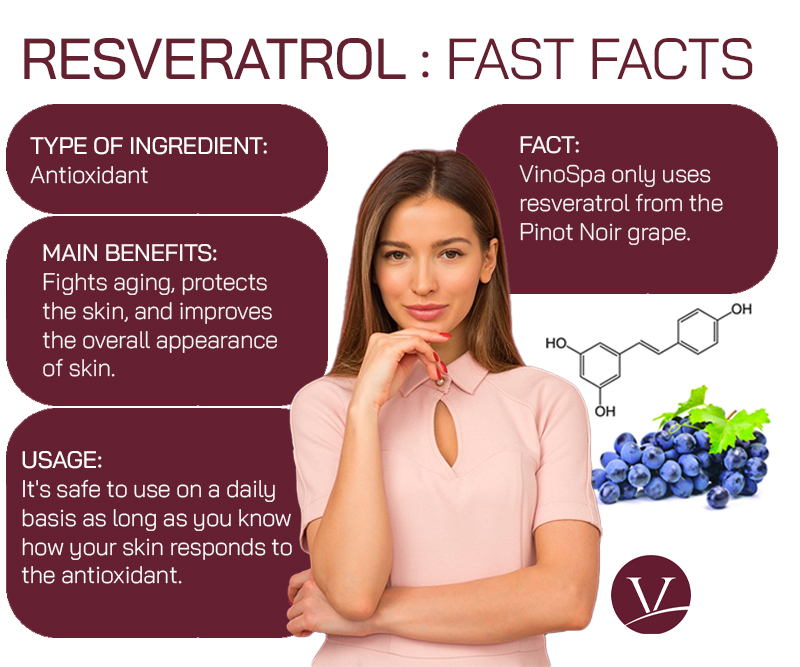 What Form of Resveratrol does VinoSpa use?
On VinoSpa labels you will see our resveratrol listed as Vitis Vinifera. Vitis Vinifera is the INCI (International Nomenclature Cosmetic Ingredient) name for Grape! Our grapes come from 40 Knots Winery, and their ancestors come from Neolithic times, first found 7,000 years ago in Iran. They are non-GMO, farmed using organic and biodynamic methods, and we also drink it! The variety of grape you will find in VinoSpa is the delicate and world-renowned grape Pinot Noir. Pinot Noir was one of the 1st of the 5 Noble Grapes named for their nobility and their original DNA. They are not a hybrid, and in fact, Pinot Gris is a mutation of Pinot Noir, and Pinot Blanc is a mutation of Pinot Gris. No wonder the Pinot Noir grape is known to pack the most resveratrol in her delicate light tannin skin.
What Form of Resveratrol is Best for Your Skin?
We answer this by asking you to consider that your skin is your largest organ and it ingests. If you are looking to boost your vitamin K, would you rather swallow a lab-created capsule or eat the color-rich kale grown in your garden?
What are the Benefits of Resveratrol for Skin?
When skincare products that contain resveratrol are applied topically, the main focus is to help protect the skin's surface. There are however, some underlying benefits as well.
Protects Skin: Resveratrol is useful in protecting our skin from harmful UV damage. Our skin is the largest organ in the body and functions as your body's first line of defense against harmful UV rays. Using a product containing resveratrol helps boost your skin's natural barriers so that your skin looks and feels smoother and healthier."
Slows Aging Process: By stimulating healthy cell proliferation, resveratrol works on a cellular level in order to fight the process of aging. Resveratrol has the ability to activate certain genes that prevent the effects of aging from manifesting as rapidly as usual.
Evens Skin Tone: Resveratrol can not only brighten and even your skin tone, but can lead to significant improvements in fine lines, wrinkles, skin firmness and elasticity, skin tone, radiance, and skin roughness.
Hydrates the Skin: Resveratrol can hydrate your skin and prevent it from becoming dry.
How to Use
VinoSpa Moisture has the highest amount of resveratrol. Want a boost? VinoSpa recommends applying Moisture at your nighttime skin routine. A good nights sleep is critical for healthy-looking skin and is the perfect time to capitalize on the heightened nighttime repair function to maximize or boost antioxidant production within the skin cells. Moisture will benefit all skin. Although most of our customers use Moisture as a face cream, it may be used for any skin area that needs a healing boost.
Moistureis most effective to apply it after you cleanse, or if you use a toner in your skincare routine, then you'd apply it after that step. If you're using VinoSpa moisture, then you'd apply it right after cleansing and toning, twice daily, mornings and evenings.