Fight Acne and Aging with Oil
Yes, you heard me right. For years we have been led to believe that to fight acne we must dry out our skin. In fact, drying out the skin has been proven to result in more inflamed and red skin with life-long scarring. Dry skin also leads to premature aging and dark spots. Dry skin traps the bacteria causing acne breakouts and preventing healing. The best thing you can do for your skin is to bring it to a healthy state so it can fight on its own. Throw away those harmful chemicals and allow your skin to do its job. This is where grapeseed oil comes to the rescue.
Grapeseed oil is a proven antioxidant with antimicrobial activities due to its phenolic components. It works hard to heal and treat acne by attacking the bacteria that can get deep into your skin causing the breakouts. Containing fatty acids, these polyphenols also assist in premature aging. Polyphenols have been known to slow down the aging process, reverse signs of aging brought on by sun damage like spots, fine lines, and wrinkles.
Grapeseed oil will not clog your pores and it is an outstanding choice for any skin type. It has an astringent quality that helps to tone and tighten your skin resulting in a smoother more radiant result. As it helps to tone it will aid in closing the pores, minimizing skin breakouts and acne.
Look for products with Grapeseed oil. It may show on your label as Vitis Vinifera seed oil. That will be how you know you have the pure ingredient. VinoSpa uses Grapeseed oil in four of our products: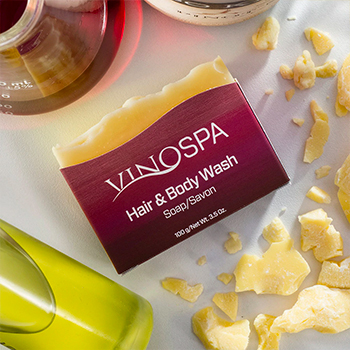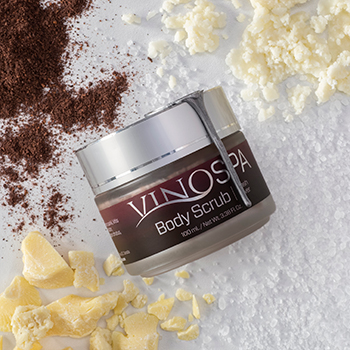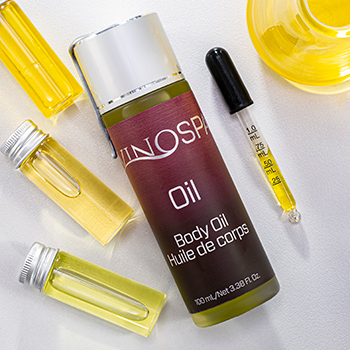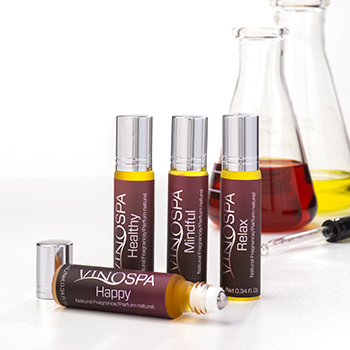 VinoSpa Oil is a great oil to have on hand. We created this oil to be multi-purpose and gender-neutral. It contains Grapeseed, Argan, and Jojoba Oil so it checks all the boxes.
A great massage oil whether you are doing a self-massage or with a partner
Add to VinoSpa products if you require more moisture
Use as a hair masque. Massage into dry hair ends, let it do its work and then shampoo as normal.
Calm down frizzy dry hair by running a small amount through your dry hair after styling
Cuticle oil. Soft healthy cuticles lead to great nails
Beard oil
Add to Masque for an extra oomph for dry skin
Reduce puffy eyes and dark circles by applying a few drops and patting gently
Treat dark, age, sun spots before applying Moisture or Butter
If your skin or hair is not in its optimum condition, you may require the average 30-day use to see maximum results, although most of our customers see results right away. Consistent use will lead to radiant skin.
Embrace healthy natural products that contain this wonderful oil and make it one of your new go-to's.
Gayle Miller
I have always wanted to write. I am honoured to be invited to write for 40Knots.
I hope to entice you into following me on my passions and adventures.